Introduction
I started my musical journey by playing trumpet in our school's cadet band. We had a band unit of 12 trumpets and 6 or 8 snares and we drilled, and marched, and did a few Anzac Day parades, and stuff like that. I learned how to play, got hooked on Herb Alpert, and then stopped when the Cadet Corps was disbanded. I taught myself how to play the flute (thanks Ian Anderson!) and only started relearning the horn this year. And it's fun to blow!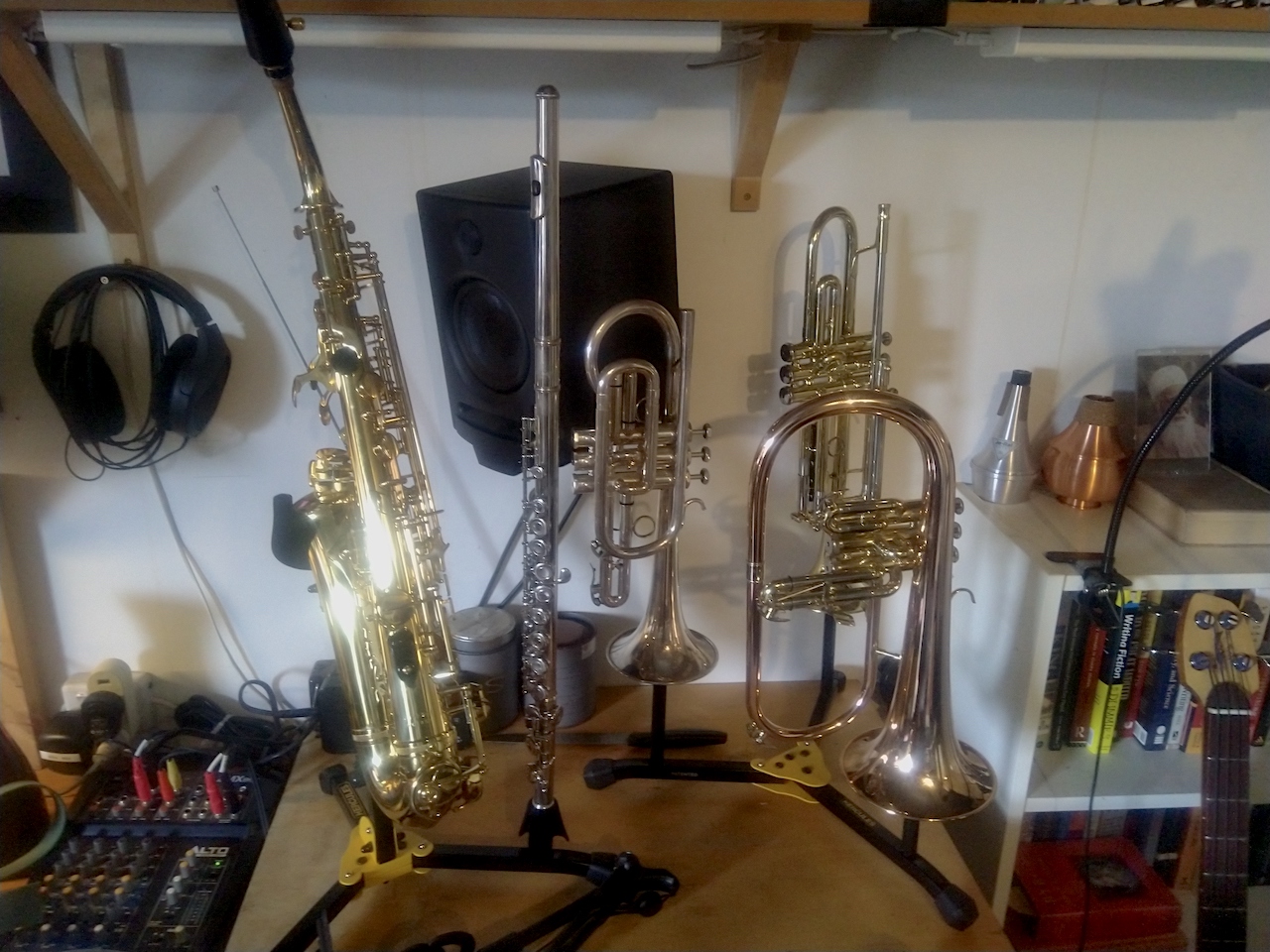 Holton New Proportion (1912)
My mother's father was a cornet player, though I don't remember him playing (though my sisters do). Regardless, his horn is still with us (though without case or accessories apart from the original mouthpiece).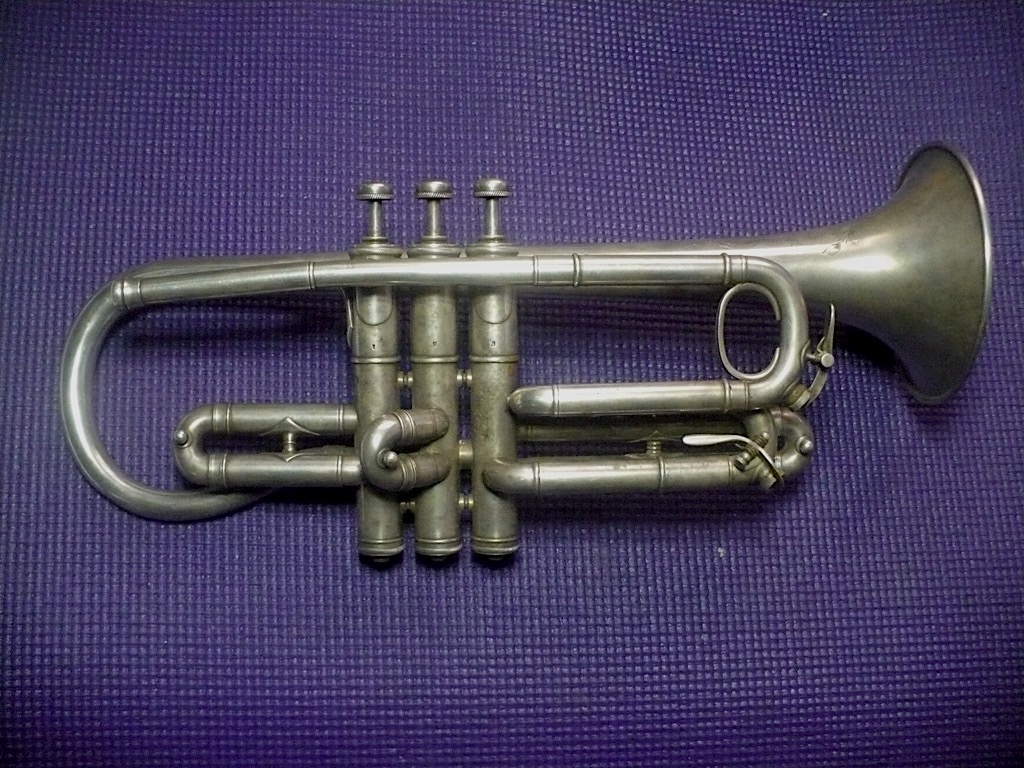 According to my research, this is a medium bore Holton New Proportion Long Model in B-flat from 1912.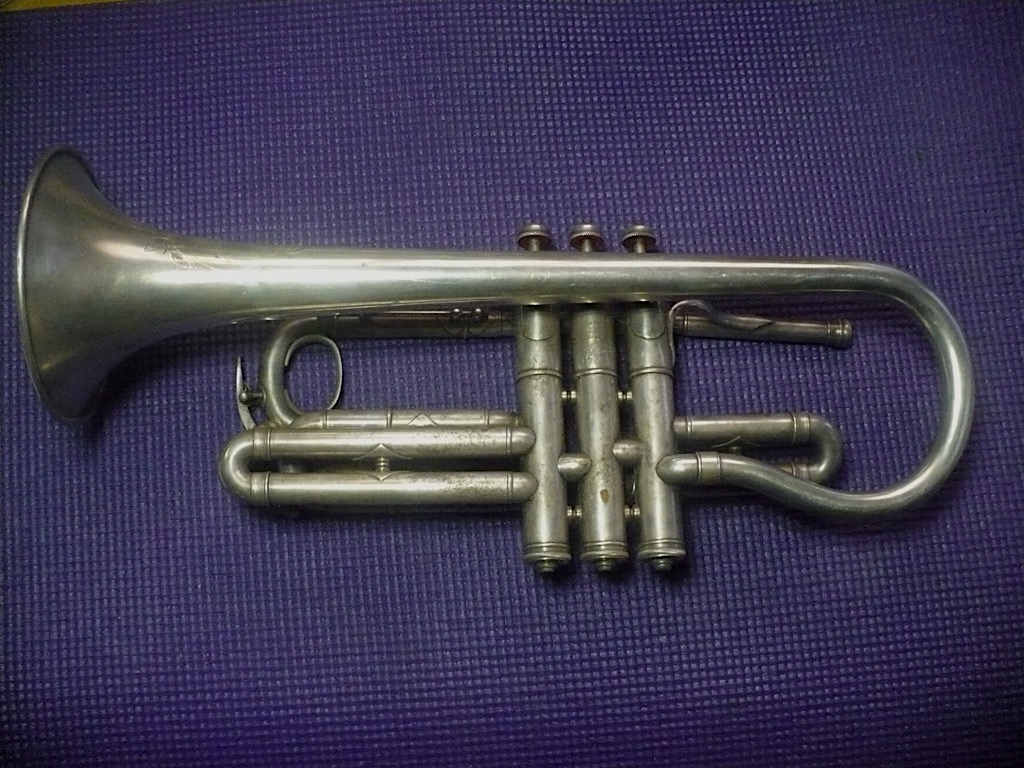 For its age it is in quite good condition, though not a daily player (there are air leaks everywhere and little to no compression). It still works, which is fun, but it is time for it to have a happy retirement…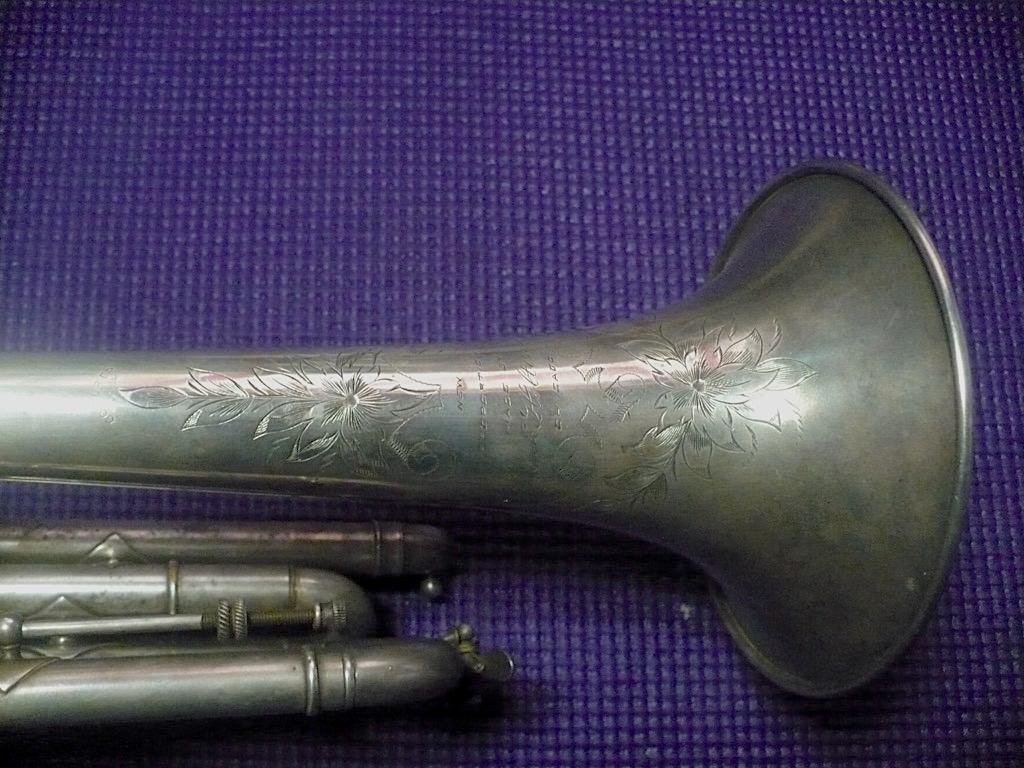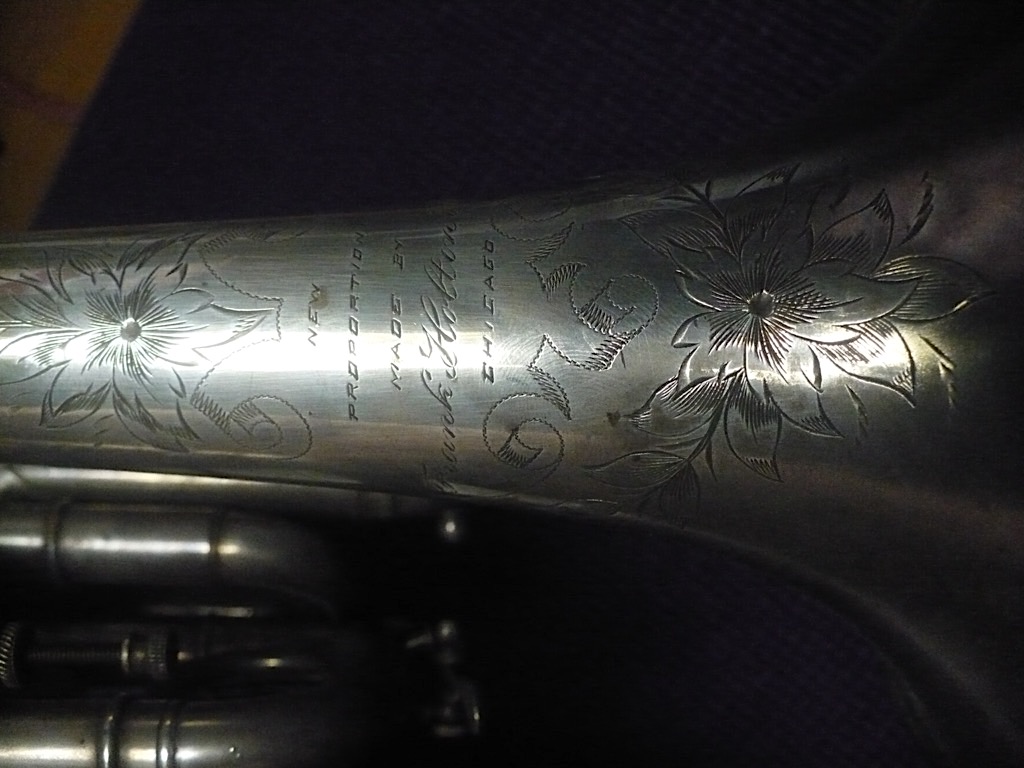 Engraved Bell: New Proportion Cornet / Frank Holton / Chicago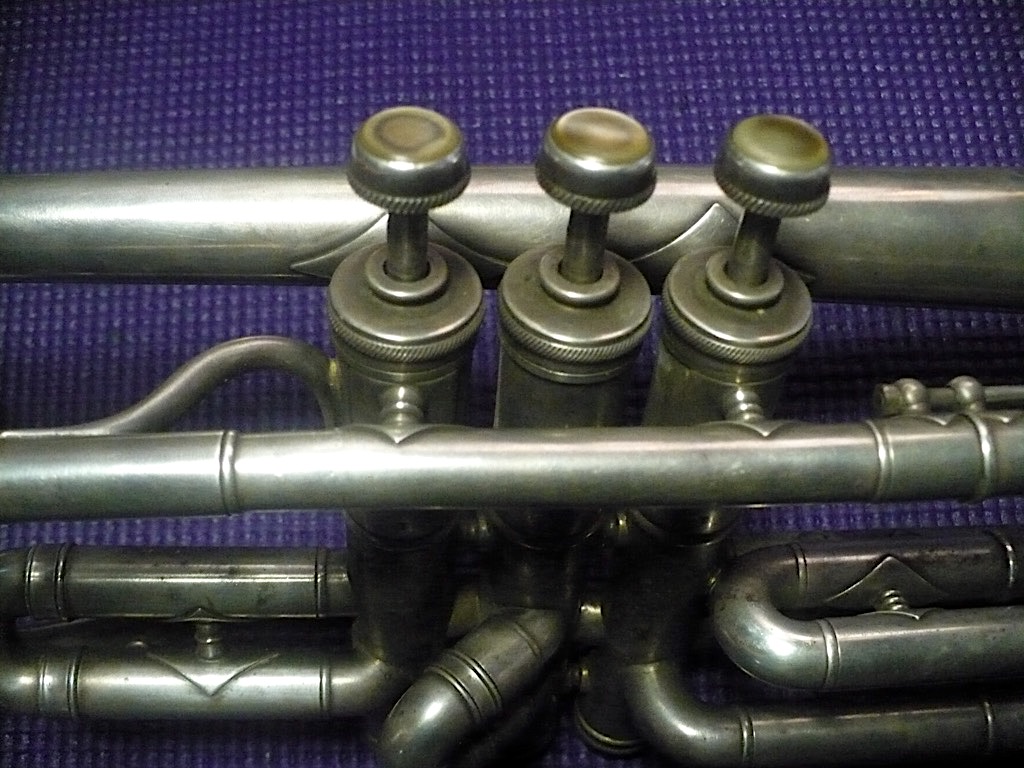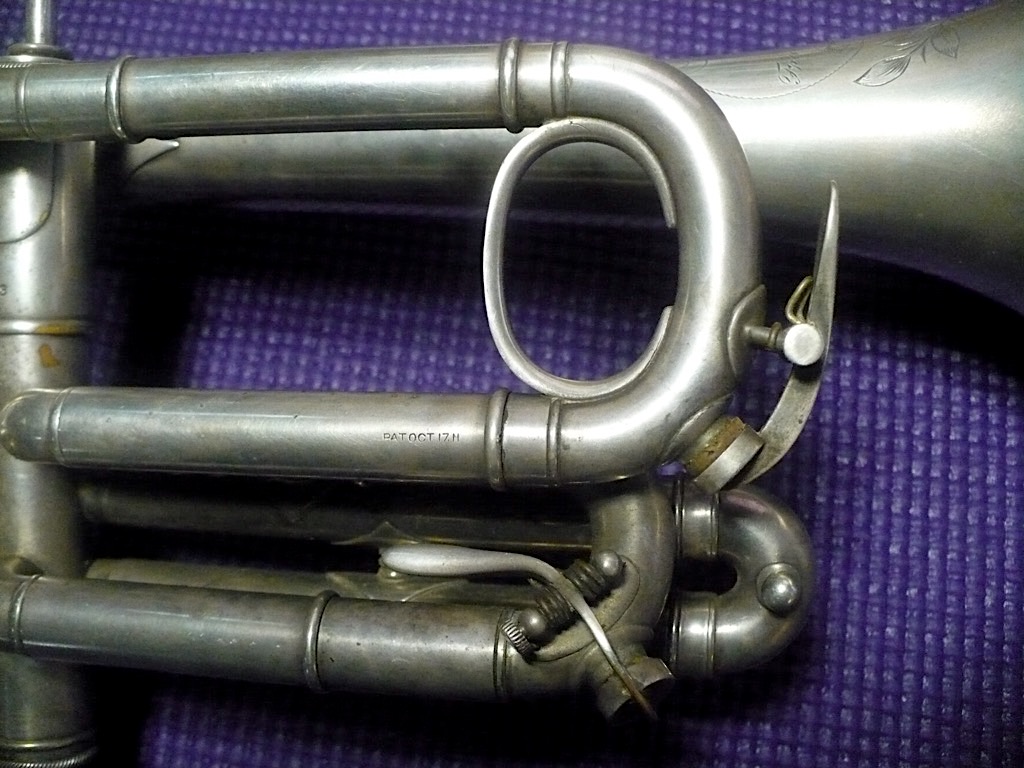 On 2nd Valve: Union Label / 0 / Frank Holton Chicago / 17689
Schilke A2 Cornet (1994)
My current player is a Schilke A2 (medium large bore, medium large bell) American-style cornet that is described as "highly regarded, as with other Schilke products, for their response, intonation and ease of playing." All I can say is that this horn is superior, and certainly much more capable than I can play. It fits in the hand perfectly, is beautifully balanced, blows easily, and has silken valves. I was exceedingly lucky to get this horn, and really want to thank Mike and Marty from Sydney Band Instruments for finding it for me. It is a joy to play!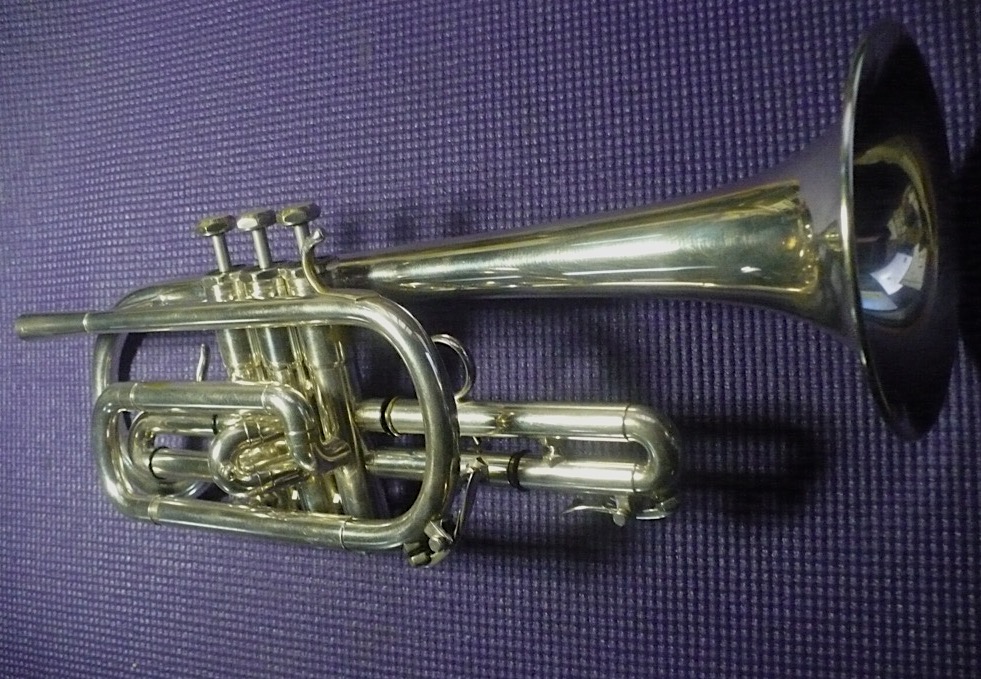 gRawlin Solista Flugelhorn (2018)
A rose-brass 0.433" bore, 6" bell flugelhorn, personally modified and tweaked by George Rawlin, this is my 60th birthday present from Emma. There is plenty of blah about it on the gRawlin website and I can only add to the praise. It is a very sweet horn, mellow and rich, easy blowing with plenty of range. Again, much more horn than me as a player so we're good! Hooray!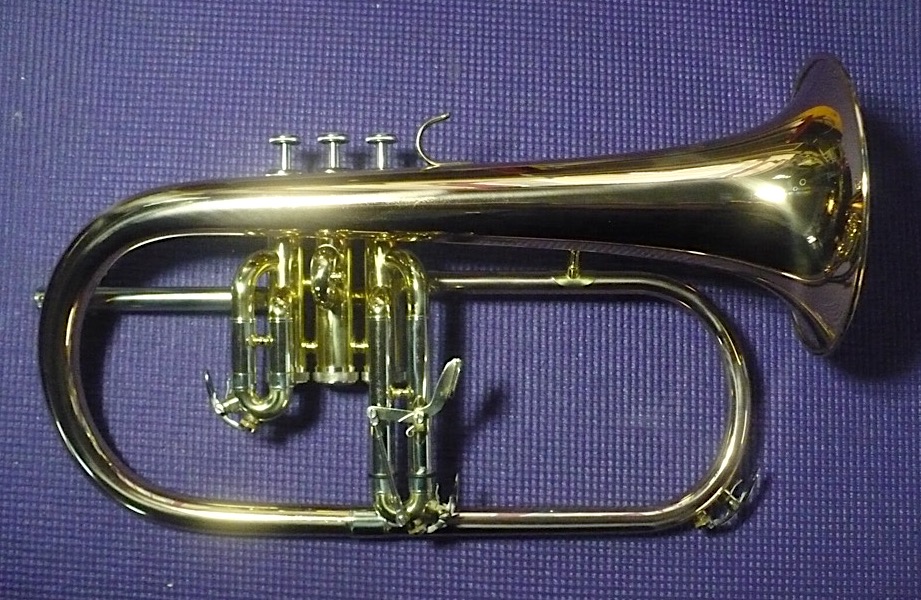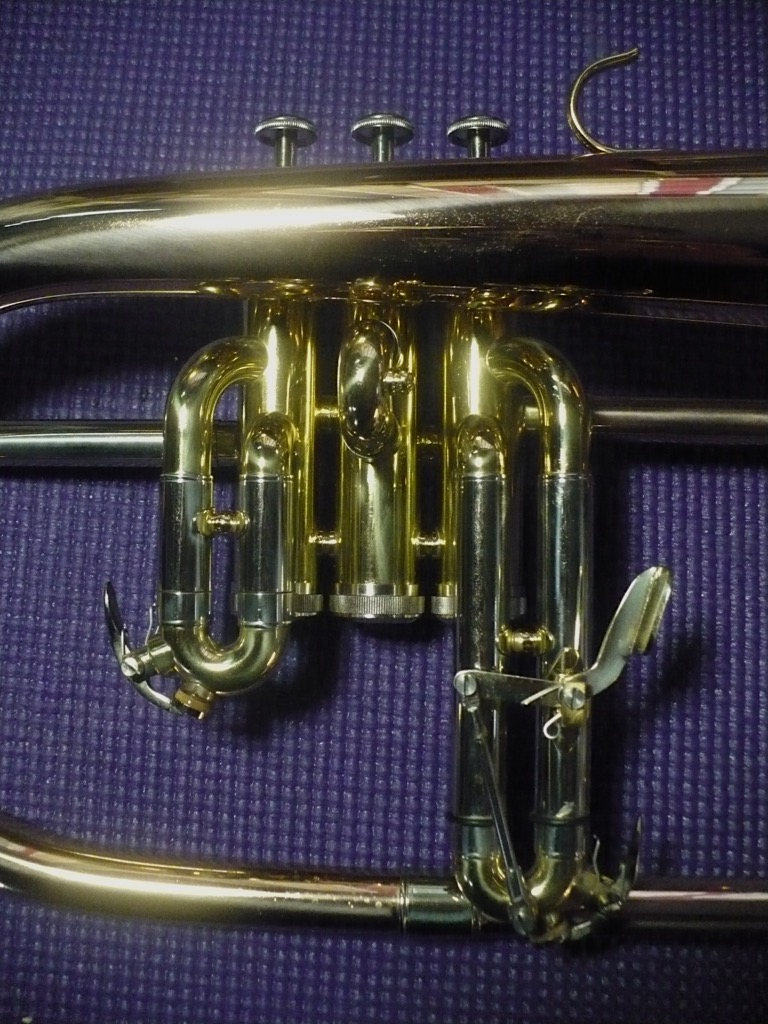 Getzen 390 Trumpet (1994)
A 4.75" yellow-brass bell on a 0.460" bore, the 300 series was Getzen's entry level instrument, though many professionals use it as their gig-beater (the horn they take along when they don't want to bring their good'un). I picked it up for next to nothing on the second-hand market and am very happy with the result. The lacquer is patchy in places but it plays like a winner and the valves are like silk. Now to get me some Herb Alpert to blow on…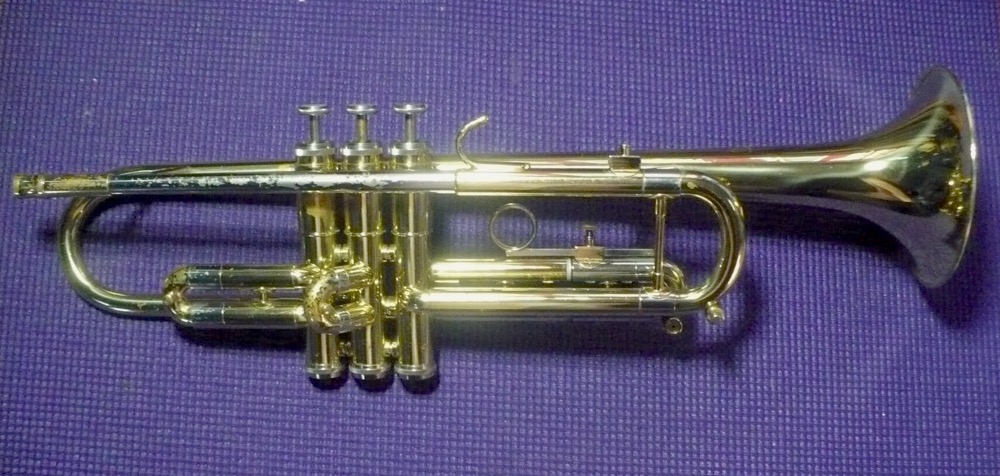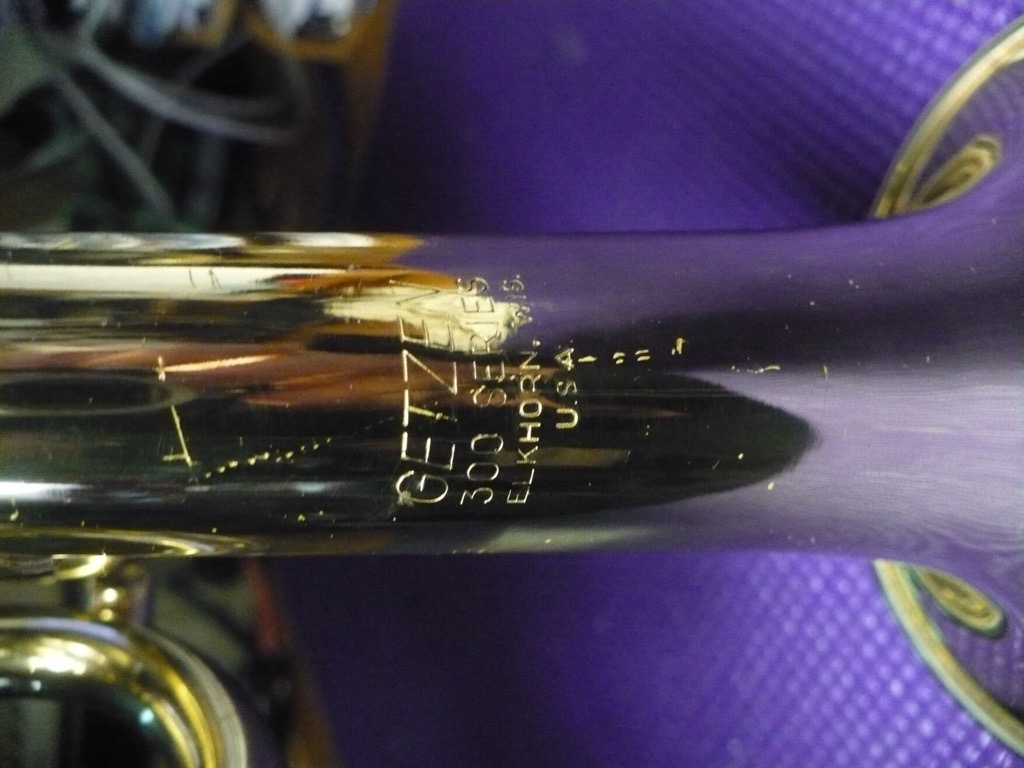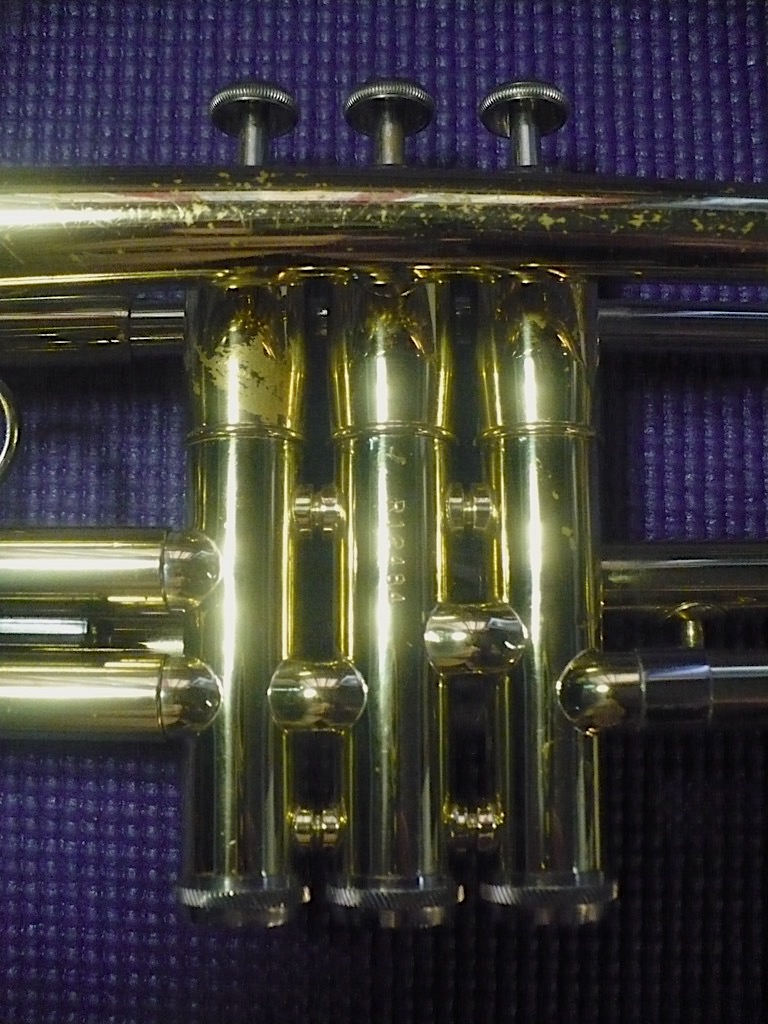 Mouthpieces et al
Mouthpieces are a funny subject, with as many opinions are there are players. I am a moderate experimenter when it comes to these beasts but, having found the sound I'm after (I'm one of the it's-the-mouthpiece-dude school), I'm going to stay with it for a while. Possibly a long while. Who knows?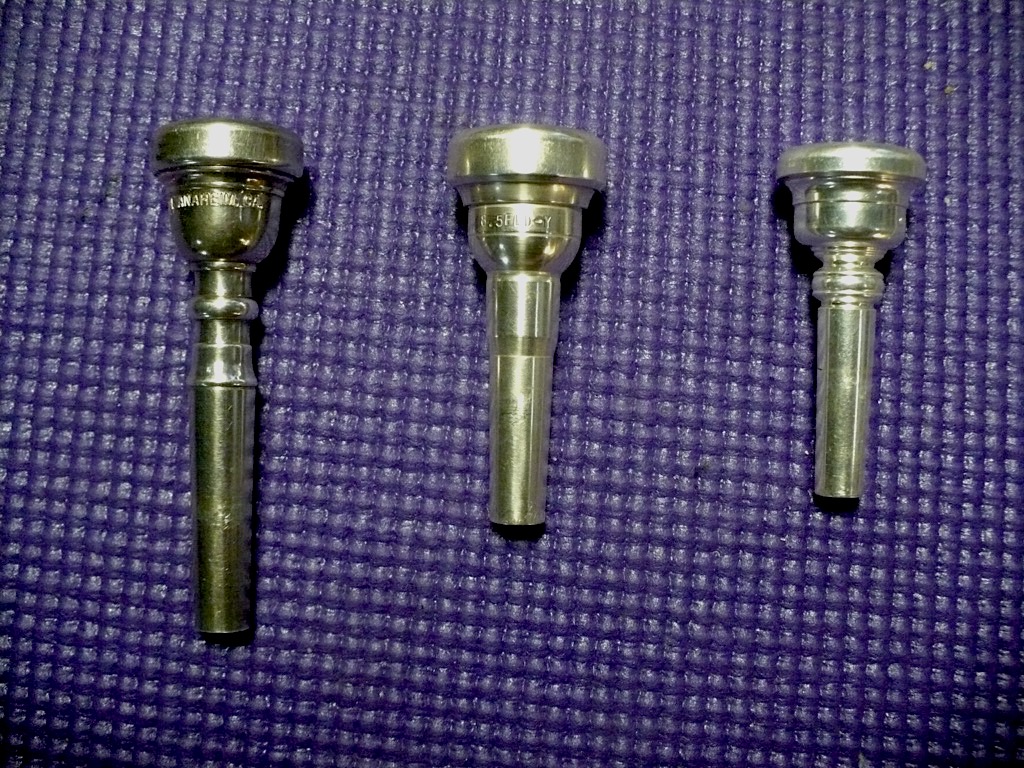 (l-r) Kanstul 7c Trumpet, Curry 8.5 FLD-Y Flugel, Curry 10.5 VC Cornet
The cornet and flugel mouthpieces seem just right. I'm less sure about the trumpet but time will tell.
Jupiter JAS-567 Alto Saxophone (2010)
I found this horn in a op-shop, sitting in unloved in the window, and bought it for $250 "as is." It is a barely used student horn–a Jupiter JAS-567 (serial M64955)– which, after a quick tune-up from the fine folks at Sydney Band Instruments, plays nicely. I quickly upped the mouthpiece (D'Addario Select Jazz 6M) and ligature (Rovner Star) and worked out the Rico #2 reeds are good for me, and I like the sound. I also find it easier to "jazz" on than the trumpets. Oh well.
Yamaha YAS-62 Alto Saxophone (c.1982)
The sax is sticking, so much so I decided to upgrade and this beautiful horn–a Yamaha YAS-62 Series 1 ("Purple Logo")–is the result. It is every bit as good as people say it is. It came with a Meyer 5M mouthpiece, which now goes with the Select Jazz, and a standard Yamaha 4C, being paired with some Vandoren ZZ Jazz #2.5 reeds to make some beautiful sounds. Happiness!
It is a bit hard to date this horn as Yamaha didn't keep detailed serial number-year registers (sigh). Still the serial 034173 makes it an early one, as does the presence of the single-piece bell key guard (which was dropped early in the production run), and, of course, the silk-screened maker's logo. If you are interested in a detailed review of this horn, the famed UK repairer, Stephen Howard, has a fine one here.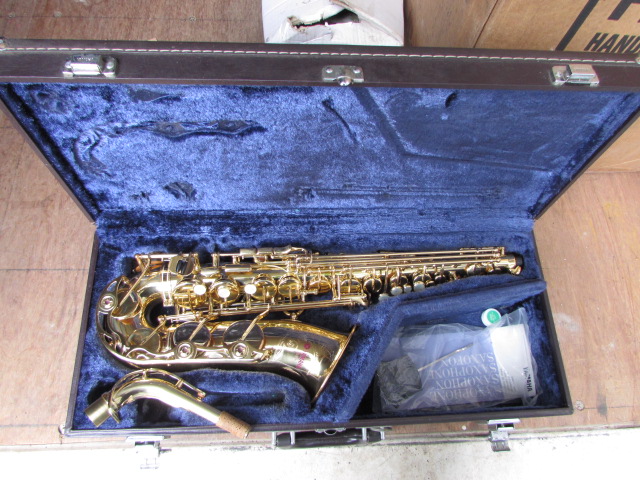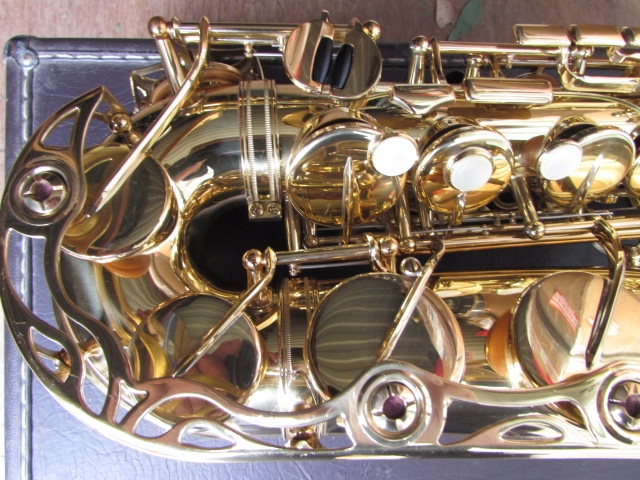 Yamaha YFL-24N Flute (1976)
That flute I mentioned at the top? Still got it. Still play it every now and then, and I gave it a refurb for Christmas! A full tear down and regrease (not new pads…). Fun times!